How to Start a Bakery Business? Best-Selling Tips to Success
Are you a baking enthusiast who aspires to turn your love for delectable delicacies into a booming bakery business? Then, starting your bakery could be your chance. But of course, starting this kind of business could be overwhelming, but only with a sound plan. Reading this blog might help you take the first steps toward launching your dream bakery with confidence.
Our comprehensive guide covers everything from securing business insurance to investing in high-quality equipment and ingredients, hiring the right staff, and marketing your business effectively. We'll also explore the details of obtaining necessary licenses and permits and tips for finding the perfect shelving to store your delectable creations.
This guide will help you turn your passion for baking into a profitable business, regardless of your level of experience in baking delicacies.
Resources for Startups
Starting a bakery business requires more than just a love for baking. A business will also require good sound judgment, a better understanding of your market, and a daily management plan. Here are some of the resources that every startup bakery needs:
Business Plan
A business plan is a roadmap for your bakery. It outlines your goals, strategies, and financial projections. It also helps you to stay focused and organized. You can use it to secure financing, attract investors, and guide your decision-making.
Financing
Starting a bakery requires capital, and you need more saved up to secure financing. Several options are available to startups, including loans, grants, and crowdfunding. Make sure you have a solid business plan before approaching investors or lenders.
Legal and Tax Support
Starting a bakery involves a lot of legal and tax considerations. You must register your business, obtain the necessary permits and licenses, and pay taxes. Consulting a lawyer and accountant would be best to know how you could comply with all the regulations for your business.
Equipment and Supplies
Mixers, ovens, and refrigerators are some of the necessary equipment for starting your baking business. You will also need baking sheets, mixing bowls, and ingredients. List everything you need and research suppliers to find the best prices.
Staff
Starting a bakery on your own is much work. As your business grows, you must hire staff. You will need bakers, cashiers, and potentially a manager. Be sure to budget for salaries, benefits, and training.
Securing Business Insurance
Business insurance is essential for every bakery, regardless of size. It protects you from accidents, property damage, or lawsuits. Here are some of the types of insurance you may need:
General Liability Insurance
General liability insurance protects you in the event of accidents, injuries, or property damage caused by your business. It covers legal fees and damages awarded to the injured party.
Property Insurance
Property insurance protects your bakery and its contents in the event of theft, fire, or other damage. It covers the cost of repairs or replacement.
Workers' Compensation Insurance
Workers' compensation insurance benefits employees when an injury happens, or they become ill while on the job. It covers medical expenses and lost wages.
Product Liability Insurance
Product liability insurance protects your business in case of injuries or damages caused by your products. It covers legal fees and damages awarded to the injured party.
Cyber Liability Insurance
Cyber liability insurance protects your business from a data breach or cyber attack. It covers notifying customers, recovering lost data, and legal fees.
Working with an insurance agent who understands the specific needs of bakery businesses is essential. They can help you determine which types of insurance you need and help you find the best policies for your budget.
Importance of Shelving in a Bakery
Shelving is an essential component of any bakery. It provides a space to display your products, helps with organization, and can affect the customer experience. Here are some tips for choosing the right shelving for your bakery: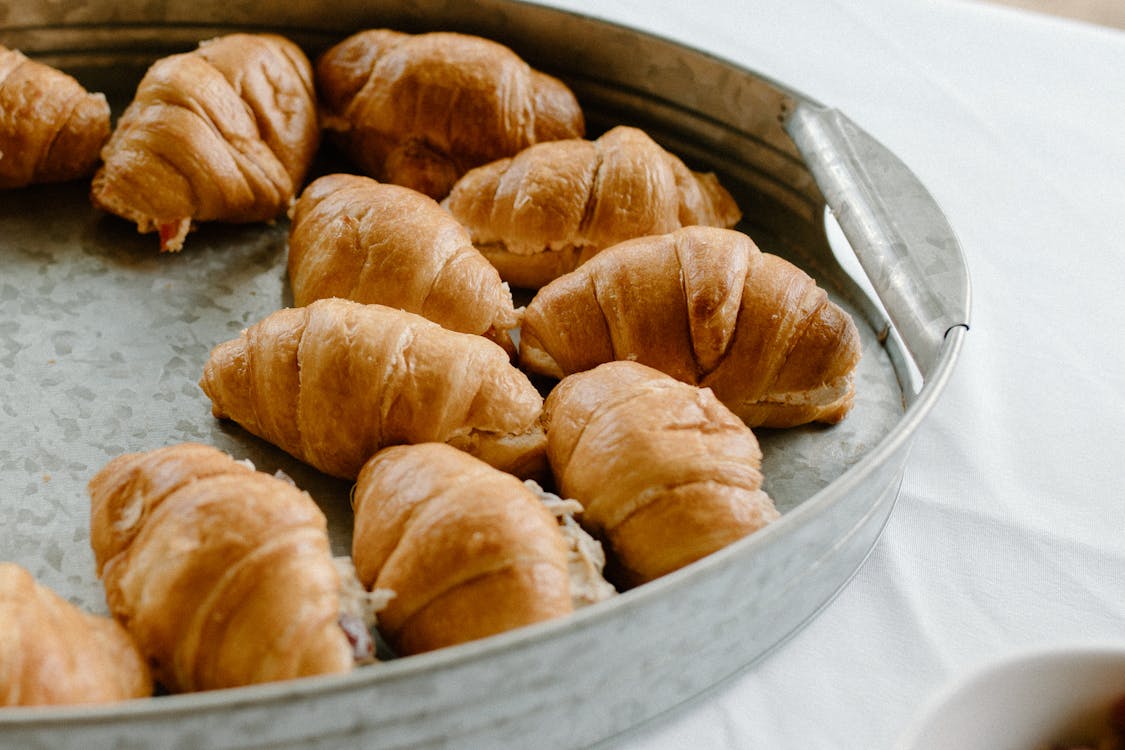 Consider Your Space
Your bakery's size and layout will impact the shelving you can use. If you have limited space, opt for vertical shelving or shelving that can be mounted on walls. If you have a larger space, you can incorporate freestanding shelving units.
Choose Durable Materials
Bakery shelving needs to be durable and able to withstand the weight of your products. It is best to consider materials like stainless steel or plastic. These kinds of materials are easy to clean. Another thing to remember when choosing shelves is to ensure they are rust and corrosion-resistant. We don't want our products to be exposed to rust, especially if you are in a humid environment
Display Your Products
Shelving is not just for storage but also for showcasing your products. Choose shelving that allows customers to see your baked goods. You can use different levels and angles to create a visually appealing display.
Stay Organized
A well-organized bakery is essential for efficiency and productivity. Shelving can help you keep your products and supplies in order. Consider adding labels or dividers to keep things tidy.
Consider Accessibility
When choosing shelves for your shop, consider how easy it will be to access your goodies. You want to ensure your staff can easily reach items without climbing and straining themselves.
Additionally, when looking for bakery shelving options, you can explore resources such as local hardware stores, home improvement stores, online retailers, and professional bakery equipment suppliers. These resources can provide various shelving options that suit your needs and budget.
Bake your way to Success
In conclusion, starting a bakery business requires careful planning, hard work, and dedication. But with the right resources and mindset, you can turn your passion for baking into a successful business venture. Remember to focus on developing a solid business plan, securing financing, obtaining necessary licenses and permits, investing in quality equipment and ingredients, and hiring the right staff. And remember the importance of effective marketing and the right shelving to showcase your delicious treats.
With these tips and resources, you can confidently start your journey to becoming a thriving bakery owner. And with that, you can now turn your love of baking into a thriving business.
NOTE: Explore Top AI-Powered Marketplace https://GuestPostNow.com/ for Guest Posts and Backlinks to accelerate your SEO Rankings.
Instagram Promotions – A Game-Changer For Small Businesses?
Sharing essential details such as new product launches or time-limited promotions will keep your followers engaged. This increases the likelihood of them viewing your feed and sharing your content with their friends and followers. Instagram allows you to promote your posts using a branded hashtag, which can be used with other marketing tactics like influencer advertising to help users discover your content.
Promote Your Best Posts
How do Instagram promotions work? Instagram is a visual platform that thrives on storytelling. Whether you're a fitness guru with short workout videos, a makeup brand showing how to apply products, or a real estate company posting a virtual property tour, you can create posts that tell a story and encourage your audience to follow your business. Giveaways are a tried and true way to boost post engagement. You can also use collection ads, which highlight your business's best photos and videos and offer a call to action to tap to learn more or buy. You can even boost your programs by tagging other accounts in the caption. This is a great way to get more exposure to your content and give other users a chance to showcase their talent.
Boost Your Reach
Using Instagram Promotions, you can reach people who have shown an interest in your content. This includes those who have liked, commented on, and even followed your account. These interactions are valuable to your business because they build brand awareness and trust. Instagram also allows you to geotag posts from your physical location. This enables users to search for photos tagged with that location and can help customers decide if your business is the right fit for them. You can promote your business in the feeds of specific users based on their gender, age range, and interests. You can also target followers of other businesses or users similar to your audience. You can keep tabs on these engagements in the Insights section of your business profile.
Create a Contest
Creating a contest for Instagram promotions can be an excellent way to generate buzz and drive decisive actions from new and existing followers. This lets you connect with a highly targeted audience and promotes content that drives accurate results. The most popular type of contest is a photo contest, where you ask your followers to upload content with a designated hashtag. Then, you ask your followers to vote on the best content. This method is easy to implement and ensures that you stay within the guidelines set by Instagram. Another great option is to host a giveaway.
Create a Geotag
If you are trying to reach customers in a specific area, Instagram geotags can be a great way. This feature shows your post to users within a certain radius of your location and has options to redirect them to your storefront, website, or Facebook page.
To create a geotag:
Log into your Instagram account and tap the square face icon in the top right corner of your profile.
Select the "Location" sticker, capture a photo's GPS coordinates, or manually add your location.
Once you have a tag, use it on your posts and Stories!
Geotagged content is a form of user-generated advertising and can boost local businesses by driving Insta-tourism. Additionally, it can improve search engine optimization for your brand.
Create a Call-to-Action
Instagram's promotions feature lets you get more juice from successful posts, stories, or highlights. The ads are charged on a cost-per-thousand impressions basis and are generally cheaper than traditional Facebook or Google ads. Depending on your objectives, you can create Collection ads that use photos or video to drive traffic to your profile, website, or direct messages. The right call to action can make all the difference in driving new customers to your business. Another great tactic is to add a call-to-action to your Instagram bio to encourage people to visit your website, shop online, or contact you. Incorporating UGC in your campaigns can work wonders and increases engagement by 4.5%.
How M&A Lawyers Can Help Protect Your Business Interests
A lawyer specializing in mergers and acquisitions can help clients with government contract transfers. They also can advise clients on intellectual property, employment, and other matters that may arise during the transaction process.
Mergers and acquisitions are highly complicated legal transactions. They involve a lot of risk for all parties involved, so having an M&A lawyer by your side is essential to protect your interests.
Negotiating
Whether you seek to bring two separate businesses together to form one (a merger) or buy another company and merge with it (an acquisition), m&a lawyer denver can make the difference between success and failure. An experienced M&A attorney can review and negotiate contracts, determine tax implications, and assist with the many other details of a significant transaction.
M&A lawyers also help clients build a "road map" from start to finish, including a timeframe. They also work closely with tax specialists to help clients understand the impact on their bottom line and work to facilitate a deal that meets both parties' objectives.
For example, M&A lawyers can review and amend boilerplate contract language to allow for the assignment of customer contracts during a purchase and merger. It will enable the buyer to keep the customers it already has and prevent potential client retention disputes after a merger or acquisition. It is crucial for more significant transactions involving multiple businesses.
Due Diligence
Due diligence is a crucial part of any M&A deal. It involves examining critical documentation and data to verify all risks and opportunities.
Acquiring a company can be lengthy, usually taking 30 to 60 days. The duration can be accurately estimated based on the complexity of the transaction and the size of the companies involved. An experienced M&A lawyer will work closely with you and your team, gathering as much information as possible about the company you plan to acquire. They will also help you identify potential red flags during acquisition.
M&A lawyers will also examine all contracts and provide legal advice, including review of business, employment, outsourcing, debt instruments, preferred stock, and other agreements. They will also assess any regulatory obstacles or compliance issues with the target and the overall deal. They will work with tax attorneys to examine the tax consequences, including examination of net operating losses, severance packages, and golden parachutes.
They will also conduct operational due diligence, which looks at all the operations of the company being acquired. It includes assessing the quality and quantity of intellectual property assets.
Taxes
A business lawyer can also help your company when it comes to dealing with taxes. They can set up strategies for minimizing your tax burden and advise you on structuring business transactions to maximize savings.
They can help draft and negotiate contracts, such as purchase, merger, and asset sale agreements. These are important for protecting your company's interests during a merger or acquisition.
M&A deals can be long and drawn out, and you must have an experienced business attorney on your side to keep the ball rolling. It can avoid delays and ensure that the transaction is completed on time. In addition, a business attorney can help your company avoid litigation. A lawsuit can be costly and detrimental to your business, so it's best to avoid them whenever possible.
Legal Issues
Regarding legal issues, an attorney can help keep the transaction on track. Many deals get bogged down in details, the involved parties become distracted, and negotiations stall. An experienced M&A lawyer knows each process step and can keep things moving forward.
In addition, an M&A lawyer can help document a merger or acquisition. They can review the business records of companies, assist with obtaining business information and financial documents, and ensure that all the necessary filings are made with regulatory agencies.
M&A lawyers can also handle issues involving public company deals and intellectual property and employment matters.
How to Stand Out in the Competitive Burger Franchise Market
A solid marketing strategy is crucial in a highly competitive industry when it comes to burger franchising. Fortunately, there are various ways to differentiate oneself from the rest. One option is to identify and capitalize on competitors' shortcomings, converting them into advantages for your brand. Another approach is to consider the demographics of your desired audience when selecting a restaurant location.
Branding
Having a well-established brand image is crucial for any thriving franchise. It differentiates your business from the competition and leaves a lasting impression on your target market. The appropriate branding can even generate a desire for your products among your customers.
Burgers are loved by people all around the world. They are also easy to prepare at home, making them a recession-proof food option. The burger industry is growing fast, and it's the perfect time to open a burger restaurant franchise.
Opening a burger restaurant franchise like Checkers and Rallys can be a good opportunity for those who want to enter the food business but don't have the necessary resources to start their own independent restaurant. Franchises offer a proven formula for success and usually provide marketing support and training. They can also help you find a location, secure suppliers, and hire employees. They can also help you establish a business plan and prevent potential problems before they occur.
Menu
If you're thinking of opening up a burger franchise, it's important to research the different brands and decide which one is right for you. You'll also need to consider your financial situation and ensure you can afford to run the business.
Within the fast-casual space, many burger chains focus on serving better quality ingredients rather than just cheap burgers. As a result, customers are flocking to these restaurants for their fresher, more savory meals.
Another consideration is the menu, which should be created with your target market in mind. It should be easy to understand and appealing to your audience. You'll need the right kitchen equipment. It should include a commercial griddle or char-broiler, French fry cutter, vegetable slicers, and more. This will help you make various products so your burgers can stand out from the competition. Moreover, your establishment should be well-lit to appeal to your customers.
Location
Franchising can be a great option for franchisees interested in opening a burger restaurant but may need to gain the experience to open an independent eatery. Many burger chains offer significant support to help new franchisees get off the ground.
Franchisees can also maximize their revenue potential by investing in multiple locations. This enables them to leverage economies of scale and establish a strong brand reputation, driving customer traffic and earnings.
It also helps to maintain consistency in quality and customer service, enticing customers to return to a restaurant repeatedly. Furthermore, implementing technology-driven innovations like food ordering apps can attract and retain customers. This is particularly important since food ordering apps are among the top burger sector trends in 2022.
Marketing
The franchise industry is a great choice for new entrepreneurs. Instead of starting from scratch, a franchise offers a business model with mentors, field managers, and advisors who can help you get your restaurant up and running. It also provides access to a network of other franchisees that can offer support.
To stand out in the competitive burger franchise market, your marketing strategy should be tailored to the unique demographics of your audience. Targeted mailers like "new mover" are a good way to introduce your franchise to people who have recently moved to the area.
Another effective marketing strategy is to be active on social media and respond to any questions or concerns that you receive from customers, both existing and potential.